Alex Abramov from the High camp Vinson Massif Ц we are resting before summit bid!
26 December 2015, 11:26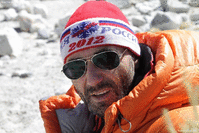 Hello! This is Alexander Abramov from Antarctica, from the High camp on the of Vinson Massi. Despite the fact that we were promised today for not very good weather, strong wind, we were the only team that dared to go up. And now we came to the assault camp, surprise - is absolute calm! We hope that tomorrow morning we will be able to climb to the top. But still, of course, all is in the hands of God. So now we go to sleep and just in 7 hours we hope to start for ... the assault. Bye! Wait for new information!