SUMMIT! Alexander Abramov reports from the summit of Mount Vinson!
27 December 2015, 22:11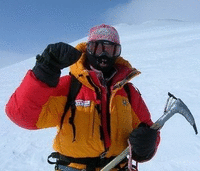 Hello! This is Alex Abramov. I run my report from the summit of the Massif Vinson. We are the first and only team, which today climbed to the highest point. The weather is beautiful, and it is almost no wind! I did not even put a down jacket ... there are lovely views around, however, some clouds, but no wind .. We took a chance, went out in bad weather, and guessed. At the top are staying now: Alexey, Dmitry, Vasily, and our American friends ANI guides Scott, Næss and Andy. And, of course, your humble servant, Alexander Abramov.
Now we begin the descent, we hope to be at Union Glacier at 29th. All Goodbye!