SUMMIT! The team of Alexander Abramov sends greetings from the highest point of Antarctica!
5 January 2016, 22:29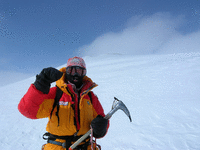 Hello! This is Alex Abramov – from the top of Vinson Massif! Whole our team has climbed to the top: Mikhail, Roman, Janusz, Kirill and I, Alexander. Kirill undressed then just to celebrate ... It's nothing, because the weather is perfect. We walked all the time in the windless, it was hot. Can you imagine such we are in Antarctica! Boys, too, are preparing for undressing. If we do not freeze, then immediately will flee to the High camp. Congratulate us: anything we wanted, we have achieved. We now have a long, a very long way home. Best regards!!!
Listen to an audio message: