Carstensz Pyramid FORMER Gwent rugby star Richard Parks told of an "adventurous and mysterious" trek as he climbed the highest mountain in Australasia and completed the first half of his global expedition ... read more
Carstensz Pyramid
FORMER Gwent rugby star Richard Parks told of an "adventurous and mysterious" trek as he climbed the highest mountain in Australasia and completed the first half of his global expedition challenge. The ex-Dragons and Wales player reached the summit of the 4,884 metre high Carstenz Pyramid in West Papua, Indonesia on Wednesday, local time.
This followed a seven-day trek and climb and represents the completion of the fifth of nine legs.
It means Parks is still on track to become the first person to climb the highest summit on each of the world's seven continents and venture to the north and south poles in seven months.
He described the climb, starting from dense tropical jungle, as "the most elusive, mysterious and adventurous of the seven summits." While it has the lowest summit altitude, it is the most technically challenging as it involves difficult scrambling, rock climbing and abseiling.
Parks also trekked through jungle to base camp, which involved walking through rivers, mud and torrential rain in extreme humidity. There were also concerns that the Japanese Tsunami might hit West Papua and cause delays, however, the island remained unaffected.
Parks has now successfully completed The South Pole, Mount Vinson in Antarctica, Aconcagua in South America, Africa's Kilimanjaro and now Australasia's Carstensz Pyramid. Next up is the North Pole.
He is hoping to raise £1 million for Marie Curie Cancer. Follow him at 737challenge.com.
Mount Everest
The Guinness World Record holder as the oldest Mount Everest climber, is currently in Brunei Darussalam as the Ambassador of Visit Nepal Year 2011 to promote Nepal tourism in Brunei Darussalam.
Mr Min Bahadur Sherchan broke the world record by reaching the summit of Mount Everest in 2008 at the age of 77 years.
He has been in Brunei since March 18 and has visited Kuala Lumpur and his next destination is Singapore.
While in Brunei, the now 80-yearold Mr Min Bahadru Sherchan, has participated in various activities carried out by Gurkha members at the British Army Camp in Seria and had special sessions to promote Nepal tourism.
In an interview with the Borneo Bulletin, Mr Min Bahadur Sherchan said he has been appointed as Ambassador of Visit Nepal 2011 by the Nepal Tourism Secretariat.
It is to lure travellers from South and North Asia like Hong Kong, Malaysia, Singapore, It is to lure travellers from South and North Asia like Hong Kong, Malaysia, Singapore, Brunei, Japan, India and other European countries such as United Kingdom and United States to Nepal.
Mr Min Bahadur Sherchan (right) with his family members while visiting the Gurkha Army Camp in Seria.
The oldest Mount Everest climber said despite his age, he plans to ascend Mount Everest next year to break his own record as the oldest climber.
He extend an invitation to Bruneians to travel to Nepal as both countries have good relations and to mark the Visit Nepal Year 2011, adventurous activities will be organised such as track events, mount climbing and visit to remote areas.
He said Nepal has natural beauty and the Nepalese are warm and friendly. Nepal is also renowned for its culinary treats and affordable shopping as well as rich in culture and tradition.
During the sharing session, he said that he had to wait until the age of 77 to climb Mount Everest due to financial limitations. He added that he had to spend over US$25,000 to achieve his dream and as a Nepali, he aimed to compete with other world record holders who are mostly foreigners.
Recollecting his achievements, he said, he has climbed three mountains in Nepal. When he was 72, he walked a distance of 1,028 kilometres from the North to West of Nepal in 20 days and at the age of 73 he walked for seven days from East to South Nepal while enduring the blistering heat and snowy weather.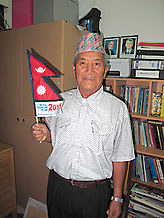 He said age is no barrier and his secret to staying fit is practising healthy eating
. He does not consume rice and eats a little portion of meat but large quantities of vegetables and traditional Nepalese food `Kodo'. He also complements his healthy diet with a 30-minute morning exercise and yoga every day.