All news: 10 December 2012
UAE-based adventurer scales Carstensz Pyramid in Oceania. DUBAI: The UAE-based adventurer Suzanne Al Houby, a Palestinian, has returned from her latest expedition with another world record as the first Arab woman to scale Carstensz Pyramid ... read more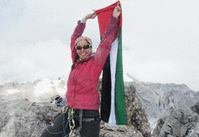 UAE-based adventurer scales Carstensz Pyramid in Oceania.
DUBAI: The UAE-based adventurer Suzanne Al Houby, a Palestinian, has returned from her latest expedition with another world record as the first Arab woman to scale Carstensz Pyramid (Puncak Jaya), the highest mountain in Oceania, peaking at 4,884 metres.
Al Houby is famous for becoming the first Arab woman to climb Mount Everest last year and with this latest climb she has now officially conquered six of the Seven Summits — the highest mountain on each of the seven continents. Compared to previous expeditions, Al Houby has embarked on a pursuit of her goal, Carstensz Pyramid, located inPapua,Indonesia, which offers its own set of unique challenges.
The approach for this climb is known as the most difficult in the world.
The area is extremely inaccessible, with the journey beginning in a multi-hour flight acrossIndonesia, with as many as six stops, before landing on theislandofPapua, where the mountain is located.
From there, Al Houby and the rest of her expedition made a gruelling six-day trek across steep terrain through rainforests, swamps, mud slides and rock walls just to get to the base camp.
The expedition was supported by tribal porters from the Dani tribe, a people who live outside of modern civilisation and who have practised cannibalism well into the 20th century.
During the trek, the expedition had to pay sums of money to tiny villages as they passed through for fear of animosity towards them.
"The weather conditions were really bad because of continuous heavy rains," says Al Houby.
"We were wet all the time and the rain made steep sections difficult to cross."
"The continuous deterioration in weather affected the health of some of the climbers.
"This made me develop a nasty lung infection that began to make me weaker each day until we reached the base camp," she said.
After reaching the base camp and taking a day's rest, Al Houby pushed through on her attempt to the summit.
"I climbed the vertical rock walls until we were high up on the summit ridge. There we stood in front of one of the highest mountain obstacles in the world: a 12-metre gap between two rock pinnacles with hundreds of metres drop in between.
Along with Al Houby on the expedition was another Arab climber, the Jordanian Mostafa Salameh.
"This was the first time I've ever had another Arab climber in the team with me and the camaraderie was just amazing.
"We had a great time and we crossed the most challenging section higher up together," she said.
Besides being the first and only Arab woman to ever climb Mount Everest, the highest mountain on earth at 8,850 metres, Al Houby was also the first Arab woman to climb Mont Blanc, Elbrus, Aconcagua, Vinson (the highest mountains in Western Europe, Europe, South America and Antarctica), in addition to Kilimanjaro and Toubkal, the highest mountains in Africa and North Africa respectively, amongst others.
The summit of Mt. Everest
----------------------------------------------------------------------------------------
Everest hero Mostafa turns attention to charity and poles hikes
http://www.scotsman.com/news/scottish-news/top-stories/everest-hero-mostafa-turns-attention-to-charity-and-poles-hikes-1-2659648
Mostafa Mahmoud
By David O'Leary
A FORMER city hotel worker who quit his job to climbMount Everesthas become the first Jordanian to scale the highest peaks on each of the world's continents.
Mostafa Mahmoud Salameh, from Bruntsfield, resigned from his job as food and beverages manager at the Sheraton in 2004 to embark on the life-altering challenge of scaling the world's highest mountain.
Not content with just reaching the 8850m summit, however, the 42-year old has gone on to complete the Seven Summits challenge and become a Jordanian national hero into the bargain – he has been knighted by the Middle Eastern state.
Last Friday, the Queen Margaret University graduate reached the summit of the Carstenz Pyramid in Indonesia, finishing an eight-year odyssey which has seen him scale Everest along the border of Nepal and Tibet/China; Mount McKinley in Alaska; the Vinson Massif in Antarctica; Aconcagua in Argentina; Kilimanjaro in Tanzania and Mount Elbrus in Russia.
He said: "It's a relief to finally complete them all. I head toJordannext week to hand the flag back to the king ofJordan. It was easily the toughest trek I've ever done, just getting to the mountain through dense Indonesian jungle was an ordeal.
"It would take us a whole day just to complete 200 metres, there are also about 50 different tribes living in the area and we would have to stop and trade with each one.
"Everest base camp was a walk in the park in comparison."
He added: "After weeks with no shower, eating rice for breakfast lunch and dinner, I finally made it to the top of a giant, jagged rock, raising the Jordanian flag on the last of my Seven Summits."
The intrepid explorer still callsEdinburghhome, though, and regularly returns to the city.
He said: "Edinburghis my base and I return every couple of weeks. The next time I'm back I will go to a few schools and give some talks. My wife is pregnant at the moment and we are going to have a second child in four weeks time so this will be my next summit."
Following the birth of his child, Mostafa will begin training for his next adventure in January and is planning a 60-day hike to the South Pole before flying toNorwayto begin a journey to the North Pole.
He added: "If successful I will become one of only 25 people in the world to complete both the Seven Summits and both poles. My plan is to complete the South Pole in November 2013 and finish the North Pole in April 2014."
Next April, Mostafa will also lead 20 Jordanian celebrities to Everest base camp to raise more than a million dollars (?625,000) for the King Hussein Cancer Foundation.
---------------------------------------------------------------------------------------------
Blind climber receives Hillary grant for Seven Summits
Blind runner Neelusha Memon and helper Olly Marshall finish the Coast to Coast race at Sumner
News Pursuit leads to Hutt drugs, weapon bust Auction decides fate of family's farms Licence suspension rescheduled around tournament Kapiti killing accused appears in court Rare whisky remedy memorable, says doctor Post mortem for burnt-out car death Officers' actions played role in prisoner's death Wellington Santa Run raises cash for kids DOC hikes Kapiti Island fees to increase returns.
Legally blind adventurer Neelusha Memon's dream of conqueringSouth America's highest peak is one step closer thanks to a Hillary Expedition Grant.
Today it was announced she was one of seven teams to receive a Hillary grant, which provides funding from Sport New Zealand for Kiwis to undertake outdoor challenges.
The 28-year-old Wellingtonian has set out to summit the seven highest mountains across the seven continents, starting with the 6960m-high Mt Aconcagua.
Ms Memon said she was thrilled to receive the grant, which would help to fund her ascent of the Argentinian mountain with support guide Gavin Lang.
''I didn't think it would ever really go ahead, based on the fact we couldn't get funding, so to get this grant is a massive thing for me.''
The worldwide expedition was a personal challenge for Ms Memon, the ''ultimate test'' of her physical and mental endurance.
But she was also hoping to set an example for others to follow.
''I've got impairments but I'm still able to complete my dreams, with the right support.
''Once they realise it, pretty much everyone is limitless in what they can do.''
When she was 16, Ms Memon lost 70 per cent of her vision after a post-viral autoimmune response caused her to fall into a four-month coma.
She also lost her sense of balance, and had to learn how to walk, talk and swallow again.
A lifelong fan of the outdoors, Ms Memon has been setting herself adventure challenges since 2010, when she climbed Mt Aspiring in the South Island.
In February this year, she became the first legally blind runner to complete the Coast-to-Coast race.
She hopes people will track her fitness, balance and altitude training as well as the November 2013 ascension of the peak on the Hillary Expedition website, and will be inspired themselves.''I wantNew Zealandto come along on the journey with me, and be part of this – to encourage people to get out in the outdoors.''
After reaching the summit of Aconcagua, Ms Memon planned to climb Mt Kilimanjaro, Elbrus, Carstensz Pyramid,Denali, Vinson and Everest, over the next five years.
THRILL-SEEKERS
- Sarah Wilson will complete a Cook to Cook multi-sport expedition, climbing Mt Cook, cycling to Picton, then kayaking acrossCook Straitin January 2013.
- Brothers Nathan and Nigel Watson will climb 21New Zealandmountains over 2000m in 21 days in February, in theNelsonLakesNational Park.
- In April, Rob Frost, Ben Dare, Andrei van Dusschoten, and Scott Blackford Scheele will attempt to be the first Kiwi team to summit Himalayan peak Anidesha Chuli, also known as the White Wave.
- Kayaking team Jordan Searle, Barny Young and Shannon Mast will make a record-breaking attempt in April for the first kayak descent of the Grand Canyons of theChimbuRiverinPapua New Guinea.
- In May, Mayan Smith-Gobat will free-climb ''The Nose'' wall inCalifornia'sYosemite Valley, and will try to break the current speed record of 2 hours 26 minutes.
- Christine Burke will attempt to become the firstNew Zealandwoman to reach the summit of both the Gasherbrum1 and 2 mountains on the Pakistan-China border, in June.
--------------------------------------------------------------------------------------------
To be the first sevensummiter in Colombia
Colombian climber Manolo Barrios prepares himself for one of the biggest challenges of his storied career: climbing the tallest mountain inAntarcticaby himself, reported local media on Tuesday.
In 2001, Barrios became one of only four Colombians to ever reach the top ofMount Everest. Such a feat would usually be the peak for any adventurer, but for Barrios it was not enough.
"What now?" Barrios asked after scaling the world's tallest mountain.
The idea of 'The Seven Summits' originated after Barrios and others scaledMount Everest. The idea is simple -- reach the highest point on every continent.
"We climbed Kilimanjaro in Africa, Mount McKinley in Alaska, Aconcagua in Chile and Elbrus in Russia. But in my case," said the 55-year-old Barrios, "I need only this mountain [Antarctica's MountVinson] and one in New Guinea."
Located on the Ronne Ice Bank 1,200 miles from the South Pole,MountVinsonis 15,256 feet above sea level.
Barrios plans to climb the ominous peak in December, when the weather can be even more unforgiving than normal. Sunlight shines 24 hours a day and winds can reach speeds of up to 180 miles per hour. In addition to the hurricane winds and the unyielding brightness, Barrios will have to deal with the cold and the solitude.
"It is one thing to talk about it, it is another to live it," as Barrios put it.
If all goes according to plan, Barrios will make it to the top of Mount Vinson, the sixth of his 'Seven Summits', by the end of December and will plant the first Colombian flag onAntarctica.
But as Barrios himself admitted, summiting the mountain is dependent on one thing.
"The mountain will decide when I turn back."
On Everest
---------------------------------------------------------------------------------------------
Abkhazia declared a climbing war to Georgia
Mount Aconcagua (6962 m altitude) in Argentina become a theater of a climbing war between Georgians and Abkhazians. December, 20 four Abkhaz mountaineers (led by specially invited to this project famous Swedish explorer Johan Ernst Nilson) starts an expedition to conquer the tallest summit of America. Abkhazians want to plant on the top a flag of their country, Georgia's breakaway autonomy. Before the first trip to the Andes, the Abkhaz climbers have already set flags on Elbrus (5642 m) and Mount Kilimanjaro (5,895 m).
Abkhaz Foreign Ministry has decided to support the project with public funds and businessmen of the republic.
In January 2012, the well-known Georgian climber and politician George (Gia) Tortladze planted on a top Akonkagua not only Georgian flag but a banners with the words "Georgiawithout occupation." Later, in April, he climbed Mount Everest (8,848 m), setting on the highest peak in the world similar exposition with an extension, which added the words "Russiaget out from Georgia!".
- Due a weather conditions any flag or banner do not stay long on the tops, the main thing - to capture it all on film - George Tortladze told to the newspaper "Izvestia". - Then show it on different channels - this is a great response.
Tortladze criticized Swedish climber for taking part in the Abkhaz ascent.
Influential politician - George (Gia) Tortladze. Two times Everest Summiter
- I think he will get big money for this expedition. And if he did take part in the promotion of separatism, I put this in the world of travelers. Nielson will regret - said Tortladze.
Tortladze also continues his sports-political exploits. With the Georgia flag and an anti-Russian banner, 52-year Georgian plan to climb the fifth summit of planet - Makalu (8485 m) in the Himalayas. This will be in spring with an international team of 10 climbers.