Seven summits of Martyna Wojciechowska
24 January 2010, 12:59
January 17, 2010 Polish journalist and explorer, Martyna Wojciechowska went to great air travel on the route: Warszawa - Amsterdam - Kuala Lumpur - Jakarta - Makassar - Biak - Nabire (New Guinea). Austrian guide and a physician Robert Miller was her partner. Martyna met him in Antarctica a year ago. They chose to travel to the base camp helicopter flight from Nabira. January 20 in this town there was a conflict with the local people, which demanded to abandon the helicopter and move on with a caravan of porters. Martyna, perhaps, would not mind, but they had not time.
Local residents began blocking helicopter, but did not show persistence .. January 22, at 5 a.m. helicopter evacuated the command to the base camp of the Pyramid Carstensz. Under the plan climbers has to stay two days there for acclimatization. But Robert insisted to go immediately. While the weather was good.
The climb started went well. But on the crest the weather worsened. Martyna has no big experience in rock climbing, so it was hard. As a result, the amount of emotion and adrenaline was beyond measure. "I wanted to lie down and die." Thanks Robert everything ended well. The entire climb from camp to camp took 10 hours.
The program "Seven Summits" is completed, no doubt - then will be two poles on skis.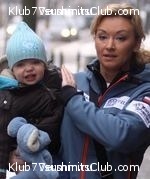 Martyna Wojciechowska is 35 years old. She has a degree in Economics and has her principal place of work - Editor in Chief of the Polish editions of NATIONAL GEOGRAPHIC. Martyna worked a lot on television, where it participates in different projects and has long been a television presenter.
Martyna traveled to 70 countries, participated in rally etc. In 2002, Wojciechowska started mountaineering practice climbing Mont Blanc. In 2003 - Kilimanjaro. After the idea of climbing Mount Everest was born. For training, Martyna ascended Aconcagua in early 2006. In May 2006, there was a greatest success at the highest peak of the planet.
In 2007 – she added McKinley and Mount Elbrus. After a break for the birth of h daughter: in 2009 – Mount Vinson and then Carstensz.
Congratulations!
www.martynawojciechowska.pl/
In preparation for the expedition to Everest it was used stamp "model for Playboy." Martyna actually filmed and published on pages of the famous magazine. But she has always been a business woman, making an excellent career.
On Elbrus