The Team of Alex Abramov - on the summit of Mount Vinson! Hurah-rah!
17 December 2014, 00:59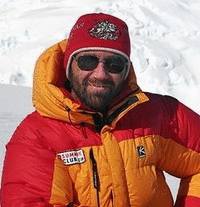 Hello! Alex Abramov from Antarctica, from the highest point of Mount Vinson. The weather is beautiful, light breeze. Our entire team is standing on the top. Of course, it's cold. We wanted to strip topless and take pictures with the flag, but the temperature is lower than minus thirty. Therefore, while we could not find volunteers. Well, in general, this is summit! Congratulate us! Today it was hard for all, but it's already over.
Next connection will be, when we reach the base camp. Goodbye!