SUMMIT! Group of 7 Summits Club climbed to the top of Mount Ilinitsa Norte! PHOTO
30 December 2015, 16:25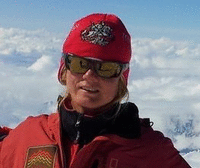 Posted by Ludmila Korobeshko from an expedition to Ecuador:
December 29th. We stayed for a night at a hacienda in 3600 in the midst of fields. We left at 7 am on the climb to fivethousander Ilinitsa Norte. The climb up was 1,200 meters. The weather was cold and quite windy. The upper part of the route is on the rocks, in some places difficult. Before we reached the summit we were not all. But we have raised the flag of the Club at the top Ilinitsa Norte 5140 meters!
Going down in our hacienda, we drank fresh milk, lit fireplace and a Cuban cigar, and discussed plans for the future.
Tomorrow. December 30 we move to a shelter at an altitude of 4640 meters. We will prepare for the climb on the Mount of Cayambe at New Year's Eve.