Alex Abramov from the base camp of Everest: the first outing was successful
23 April 2015, 07:42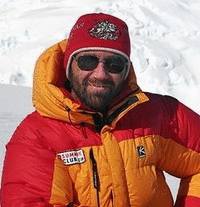 The first outing to the altitude of 5800 meters is usually the hardest.
For the first time the team wears backpacks, and it is hard after the long and heavy jeeps trip. We begin walking on a broken yaqui trail. There is a lot of snow all around. The locals don't remember so much snow. A lot of snow is as on the trail, as on the slopes.
After 7 hours, the team from Basic (5200m) came to an intermediate (Middle) camp.
There is a comfortable accommodation: warm dining tent, warm tents, warm sleeping bags. The camp stands on the crest of the moraine, and all the wind flow around. The night went well, in the morning all were able to wake up :)
Next evening, already in the Base camp we inaugurated our club tent. It is a hemisphere of 12 meters in diameter. Inside there are: the TV, billiards, table tennis, library.
Now almost nobody from members gets ill. But Oleg Pimenov and Liana Chavdarova went down for prevention. They have a mild cough and to restore health, it is useful to stay down in the warmth of a kilometer below the Base camp.