Alexander Abramov reports from the jungle of Papua:  it is more adventures than we wanted, but the goal is getting closer
26 October 2016, 20:08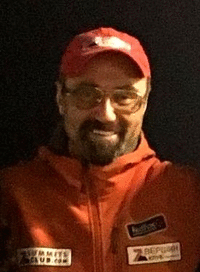 Hello! There is Alexander Abramov, the Pyramid of Carstensz. Yesterday we finally went into these terrible, wet jungle and moved in it until evening in the pouring rain. Torrential rain it is a rain that just breaks through not only jackets or coats, but also tents, where we spend the night. Dirt, of course, to the knee. The guys really did not expect this. And their surprise has no limit. All the time asking how long it will last? Yes, this dirt will continue to the base camp Carstensz Pyramid. Today we could not get the camp 2 and stopped in the intermediate camp.
In the morning we started with the desire to reach the camp 2, but within an hour we came to a place where they were to pass the bridge. The bridge appeared crushed, destroyed. And so for about two hours our Papuans made for us a new bridge. They cut down a tree, threw it into the water, pulled the rope. And we walked along the tree through which poured rage whitewater, belayed by a rope...
Later in the jungle, we just started to climb on tree roots. You walk through the jungle ... in the air, at the height of half a meter. This endless climbing, endless mud, and we were not able to reach the camp 2 ...
However, the team does not lose good spirits. Everybody is happy.