Alexander Abramov from Papua: in the morning - good weather, evening birthday celebration- again in the rain
29 October 2016, 17:49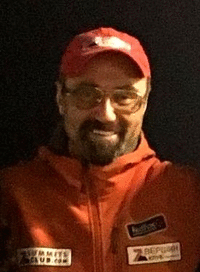 Hello! This is Alexander Abramov from Papua Province, from the 7 Summits Club expedition to the Pyramid of Carstensz. This morning the weather was beautiful, which is very rare in these parts of the World. We were ready to start, but it turned out that the porters did not want to go. And they had a very long meeting, it was all due to our yesterday's meeting with the armed guerrillas.
The porters were afraid to go out, but, nevertheless, at ten o'clock still started to collect things. We have lost time, so we had to go the whole day again. We got to the fourth camp very late, in darkness. This is the last camp before the base camp, tomorrow we will have a sufficiently long march climbing about one kilometer, partly over rocks. And we must come to the base camp.
Today we have a remarkable event. Today Evgeniy Kravt is 41. He put the bottle of whiskey, very good quality. And on the occasion, our Indonesian cooks and guides made cake, chocolate cake.
Now the rain continues to pour. Everything is as usual, and by the morning rain subsides. We hope that this tradition will continue, and we will be able to start early in the morning.
So far, all are good. Everybody is happy....