The Roman Reutov represents the 3D project of panoramas of a route to Everest from the YANDEX company
8 November 2016, 14:38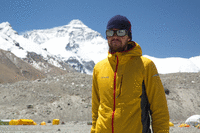 Dear Friends,
It's not a secret that this spring, we organized an expedition to mount Everest from the North side, in conjunction with «7 Summits Club», «RD Studio», «RedFox», «Yandex» and «Toyota». The expedition was stopped in half way, due to an earthquake magnitude of 8 – We were lucky that nobody from our Expedition was hurt. We were forced to evacuate.
Despite this fact, we managed to create a panoramic view of our 19km route, right from Base Camp (5100m) to Advanced Base Camp (6500m).
The Panoramas were published before the release of the film "Everest".
In the autumn of 2015, inspired by the many positive responses from your side, we decided to finish the job and began to organize an expedition in 2016.
May 20, 2016, we managed to reach the summit (8848м) and completed the full route whilst picturing everything in 3D panoramic views from base camp to the summit. May 22, 2016, we returned to base camp uninjured and safe.
Early June 2016 when we returned to Moscow, we started going through all the raw materials and then commenced our work to ensure it was of the highest standard. We created a special interactive page dedicated to the climb. Now, because of our project, everyone will be able to travel our full journey right from base camp (5100m) up until the summit of Everest (8848м). You will be able to pass this scenic mountainous route without exposing yourselves to any danger.
We wanted to make such beauty more accessible and wanted to share with you this joy and positivity.
And yes – we were the first in the world to do a full 3D panoramic view of route to highest point in World – Everest Summit!
Thanks to all of those who participated in the project. We really appreciated your support. We appreciated your selfless dedication and inspiring enthusiasm.
Special thanks to:
- Anatoly Topol and Konstantin Lysenko from Yandex team – without your enthusiasm and faith, this project would not have taken place
- Olga Bolotova from the team Neq4 – as the most energetic team member of our project
- RD Studio team, and personally to Valdis Pelsh, Kristina Kozlova, Alexander Kubasov, Vladimir Kudinov – for your support in the mountains – with you there was never a boring moment
- expedition team and to Alexander Abramov – for the excellent organization of the expedition and the feeling of tranquility
- Vladimir Kotlyar and Vlad Moroz – for their selfless help during the expedition, faith and dedication
- Max Shakirov, project partner – because you were always never far behind
- colleagues, to team and to management – thank you very much for the opportunity you gave ma and fot believing in me
- parents, relatives and friends – for their support
- and, of course, to the Toyota team – for «Always a better way»
Together we make the world better – thank you.
---
"I want to share with you the inspiring beauty of the world we live in." Roman Reutov