As the group found the name. Vladimir Kotlyar's story
9 November 2016, 15:21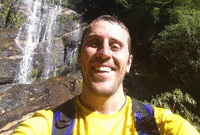 Vladimir Kotlyar, guide of the 7 Summits Club: Morning began with a joke and presented a name to our group. Having arrived in Lukla, our men sat down in the territory of Sunny garden loggia, waited for me. We ordered a breakfast and so far made it for us, Andrey went to market disorders, to buy to himself socks.
Having chosen socks, he asked the grandmother-seller in English: What size? The grandmother smiles, nods and repeats: What size? Andrey repeated: I ask you, what size? The grandmother smiles, nods and repeats: what size, what size. So proceeded until Andrey didn't understand that for the grandmother the question what size sounds as a greeting or a wish of good day. And she just repeats it as a reciprocal wish, smiling and nodding.
It very much amused us also all day while we were on route from Lukla to Modzho, we cheerfully greeted passersby the phrase of "What size". We went without hurrying, enjoying beauty, as required always stopped to take pictures, told jokes, and nodding each other, said What size and with laughter continued a way. On the way to Modzho we saw snow-white Tamserku in all beauty. I just adore this track! Snow-white peaks, coniferous forests, the turquoise river with white foam of thresholds, deep gorges, suspension bridges, caravans of yaks and the blue deep sky over the head!
All this begins from the first day of a track at the exit from Lukla and comes to an end with return to this town. By the evening the joke about what size turned into the name of the HOT SIZE group. Such here interesting transformation!