The first report of Alexander Abramov from Antarctica: we were lucky and arrived at the Union Glacier
21 December 2016, 21:02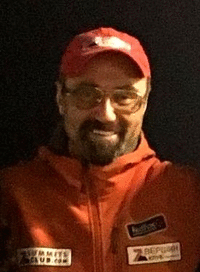 Hello! There is Alex Abramov from Antarctica. Today, two significant events happened. The first event today, our two teams - one that goes to the South Pole, the last two degrees, and the second, the team at the peak of Vinson, arrived in Antarctica. We caught the window.
In Antarctica, the weather was bad. It seems that today was the so-called "eye of the cyclone." Later in the evening the weather turned bad again. Tomorrow we are promised bad weather. Thank God, we have in Antarctica at Union Glacier and we will now waiting for the flight to Vinson Massif. In the base amp of Vinson Massif there are several groups that also have not been able to get to the Union Glacier camp, because everything is covered with clouds. Nevertheless, our entire team of 9 people flew to Antarctica and it is a happy event.
The second happy event. Today, December 18, it is exactly 50 years from the day of the first reaching the top of the Mount of Vinson. It took place December 18th, 1966. American Expedition members wre the first.
So we're a little bit today commemorated this date. Well, in general, we have serious plans. Tomorrow will tell the new news. While we were comfortably settled in Union Glacier camp.
Everybody, bye!