Team of Alexander Abramov has equipped the base camp at the foot of Mount Vinson
21 December 2016, 22:04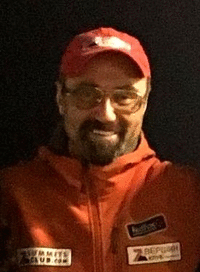 Message of December 20th, 6 am.
Hello! This is Alexander Abramov from Antarctica. Today, on December 19th, our team finally arrived as planned on Vinson Massif. Here, at the base camp, a few days the weather was bad, but today we were lucky, all arrived at the scene. A team of Kazakh (Magjan and Ilijas) by the same plane flew back to the Union. They're going to go to the South Pole with Ludmila Korobeshko by program Last two degrees. So we swapped.
We arrived to the base camp and started to equip it. We have put sleeping tents and then we put our big new tent for the kitchen. In it, we put a chic table, everything turned out fine ....
We are all well planned out, brought rugs, plywood, so we are very pleased with themselves. Then there was a very good dinner with chicken vegetables soup. And for the second dish, there were cutlets with buckwheat.
Plus, we brought and put cake, which also happy to eat for dinner.
In general, everything is fine. The weather is good. Tomorrow we're going to try to reach the High camp to make a deposit.
In general, we are fine, everyone is happy.
Alexander Abramov and Vladimir Kotlyar from Antarctica. Bye!