SUMMIT !!! Group of Artem Rostovtsev successfully climbed highest volcano of North America!
8 April 2016, 11:32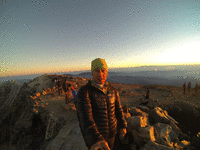 Hi, Seven Summits! It is Artem Rostovtsev, Mexico, the State of Puebla. This morning, till noon, we were at the top of the peak of Orizaba. We started at 2a.m., planned for 8 hours to reach the summit. But we have prevented by sudden cracks. So I inform all that Orizaba became cracked. The glacier is in the cracks. But we do not stop, only slowed down for one hour. While looking for where to go, where to jump. And at 11-30 we were already on the top. Now we are down and we are resting in the city of Puebla. So it is possible to congratulate all us with the successful ascent. The whole group was at the same time on the summit. The weather pleased, ice conditions - not.
Future plans - cultural and historical leisure.
Hello from Mexico! From Artem Rostovtsev.