Sergey Larin, from the summit of Cho Oyu: we are at the top, at the bottom we will be  waiting for the congratulations!
30 September 2016, 14:47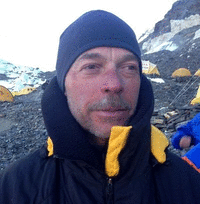 Today the team of the Seven Summits Club - five Members and four Sherpas - at 9 am Nepal time stood on the top of Cho Oyu. Some of us are still standing. Now we begin the descent. Team: Sergey Larin, Dmitry Kuznetsov, Dmitry Smirnov, Zygmunt Berdychowski and Vasily Kernitsky. I hope I did not forget any one. And four Sherpas. Congratulations are accepted only in the ABC camp. In our expedition team there are two more participants, but they work on a different route. Today, they do not climb. Sergey Larin.