Members of the expedition to Cho Oyu gathered in Kathmandu. Lhasa flight will be tomorrow ...
12 September 2016, 12:00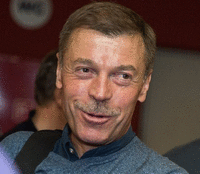 Sergey Larin from Kathmandu:
Preparations for the expedition to Cho Oyu continues. Finally, all participants gathered in Kathmandu. All luggage was delivered on time! Sherpa Team of 7 people today early in the morning went to Tibet with loads through Gyirong. Since the road through Zhangmu is still closed after the earthquake. Monsoon is not over yet, every day in Kathmandu rains. Today we will have a gala dinner dedicated to the start of the expedition. Tomorrow our plan is to fly to Lhasa at 11 a.m.