Summit! Group Vladimir Kotlyar reached the summit of Vinson Massif! Congratulations!
14 January 2017, 06:35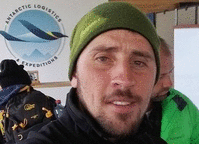 Hello! There are Vladimir Kotlyar and "courageous team." What do I want to say? We are, in fact, done what we came here, then, why we are all gathered here. Today, all members of the group were managed to climb to the highest point of the ice continent - Vinson Massif. It was cool! Great! We were a little frozen, but how without it in Antarctica!
All are down, satisfied, but very tired. Now we are preparing a dinner ...
Although we completed the ascent program, but we have yet to descend down and to liquidate camps. And it is quite tiring task. But we can handle, we are all on the shoulder. So, bye! Wait for more news!