Ludmila Korobeshko with the Kazakh team came back from the South Pole on Union Glacier ...
2 January 2017, 22:24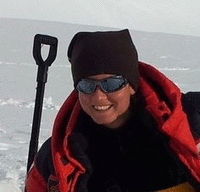 Ludmila Korobeshko from Antarctica: So, our expedition "The last two degrees" was successfully completed. December 31, 2016, as we had planned, to overcome more than 30 kilometers per day. And just a few hours, perhaps an hour before the New Year Chilean time, we reached the camp near the South Pole. The last 10 kilometers were probably the most difficult. Because we have already seen the station Amundsen - Scott, but it is absolutely not approached. It seemed that all of this is removed, just kind of Fata Morgana ...
And New Year's for Almaty and Moscow, we have met along the way. That is, in practice, we stubbornly went to his goal. And in 11 p.m. of Chile, we finally arrived at the camp, where we were warmly greeted by Hannah. We were fed, warmed, gave food and drink champagne. Everything ran perfectly. New Year, we still met.
The next day we had an excursion to the station Amundsen - Scott. Of course, we took pictures at the memorial points, geographic South Pole.
Now we are happy, slept, eaten off. We have already arrived at Union Glacier.
And tomorrow, or rather today, in the night of 2 January 3, we hope to fly on the mainland, in Chile, in the city of Punta Arenas.
Everyone - a Happy New Year! Everyone - all the best! Our expedition was successful. You can congratulate us! Bye!