The team returns to the base camp, all are healthy and deserve a rest. A new approach to acclimatization has justified itself!
2 May 2017, 20:32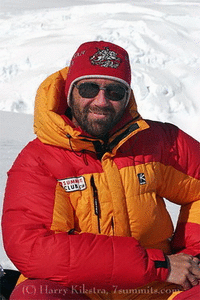 Alex Abramov, the leader of the expedition from camp ABC: Day 16. May 2.
Expedition of the 7 Summits Club Everest – 2017.
It rumbled all the night. All members slept poorly: because the first night sleeping without oxygen or because the wind was really strong. Snow flew into tents, the frost was falling from the roof. It was impossible to sleep. Dream was sticky ...
This morning I woke up and saw the camp covered with snow. Snow flags on the clear summit of Everest complements the landscape. Today, no one will go up, was the first thought.
And then the Chinese started: 35 clients and 45 Sherpas. The picture is not for the faint of heart. Some Chinese go so slow that doing about one step per 30 seconds. And then stand, breathe. You know what's even more amazing... they will reach the top.
And today we will run down. To warmth and to shower, to the food that is digested. To warm tent and more with the fact that in everyday life you are not considered luxury items.
The first stage of our Oxygen Acclimatization is completed. 6 nights, three of which we slept with artificial oxygen, rising to a height of ABC – 6400 meters. I want to say that after this test the whole team feels healthy. Nobody coughs and complains about the respiratory system. It is very unusual for Himalayan expeditions. So we will consider the first stage of the expedition successful. Now we have three legitimate days and nights to rest in the base camp.