Alexander Abramov from the base camp of Everest: how was the first day and about plans
26 April 2018, 23:44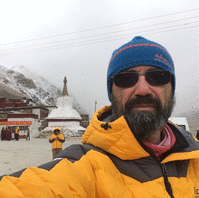 Alexander Abramov, head of the expedition on Everest:
News from the Everest base camp 2018 from our luxury camp.
The day was warm. Later it's snowing. Fantastic food. All in shock. Elena led a Yoga class this morning.
Tomorrow a group of Kotlyar and Kovalev goes to the camp ABC.
The next day I will go with Dima (Ermakov) and 8 people are following in their footsteps. The day after tomorrow - Andrei Mariev, Sergei Larin and 8 more people.
We slept all with oxygen for the first night. Everyone slept great.
Today we opened two massage rooms with the masseuse, the inhabitants of Tibet. Today was the opening of the bar. And going to Rongbuk. All members and guides are happy and proud that we have the best camp on Everest for all 60 years of development of Everest.