Gleb Sokolov plans: a new route on Everest in alpine style
8 February 2013, 12:36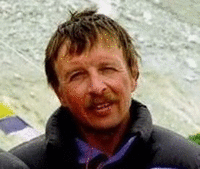 The famous Russian high-altitude climber Gleb Sokolov visited the Moscow office of NPF BASK company, his lead sponsor. He spoke to the press about their plans. This year Gleb will be under Everest with the expedition of 7 Summits Club. He plans to made a new route via the middle of Kanchung face in alpine style.
Gleb Sokolov was a member of the Russian team on the north face of Everest, on the west face of K2, on the first ascent of Lhotse Middle. Plus he climbed also Makalu, Lhotse Shar, Lhotse Main, Cho Oyu and Manaslu. He became famous in Russia after high speed record climbs of Peak Communisma and Pobeda in late 80th. He is an author of two new routes on the northernmost seventhousander Peak Pobeda, made solo traverse of it. At least 40 times climbed peaks above 7000 meters. In short, Sokolov is the leading high-altitude climber of Russia. Gleb lives in Novosibirsk, this year he will celebrate 60 years anniversary, with four children, and at least one grandchildren.
"Last year for me was sad and unfortunate. Very people close to me left us: my friends, first Vitaly Gorelik February 6 on K2, then Ilyas Tukhvatullin and Vanya Lobanov October 7 at Annapurna. All my plans were broken….
Trek to Annapurna, with Ilyas
In April-June this year, I and Alexander Kirikov plan a new route on Everest on the east face and in the alpine style + without oxygen (photo 1). We will prepare for climbing with the great company of climbers from the 7 Summits Club. We will go up to the Changtse Peak (7550m), hike on the "northern classics route."
After acclimatization we get to the glacier Kanchung, to go climb the main goal. The descent we plan to the north side.
Summer - nothing serious. May be – Aktru mountaineering camp. For support of acclimatization, in July and August, I plan to climb Lenin Peak.
In September-November, we organize an expedition to Shisha Pangma. With Alexander Kirikov, and maybe with someone else, we want to go via a new route on the two peak of Shisha Pangma starting from a traverse of Molamenking peak (7661m) (photo 2). Remaining members of the expedition will follow the classical way, and will also try to climb the two peaks (8008m and 8027m).

Of course, plans are plans, and what you get is what you get. The mood is great, and then - let's see ... It better 10 times turn back, then ....