We lost our friend and a wonderful person. Condolences to the family and friends…
22 October 2014, 19:53
20th of October a group Noel Hanna (Team Leader), Murad Ashurly, Gennadiy Durov, Iurii Kormazov, Makar German, with Climbing Sherpa's Rinjin Sherpa, Jangbu Sherpa, Pasang Sherpa reached the summit of Ama Dablam. On the same day they went down to the camp 2. The next morning (21.10), the accident occurred at the beginning of the descent towards camp 1. Ashurly Murad died falling with a broken fixed ropes.
We bring our condolences to the family and all who knew and loved him!
Report of Noel Hanna: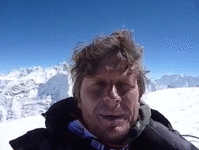 "The last 30 hrs has been the worst 30 hrs in my life.
We left camp 2 on Ama Dablam at 0930 yesterday morning to return to camp 1. I left the camp 1st followed by the rest of my team. I just had climbed down about 30 minutes when your worst nightmare happened. I had just came off rappelling down a rope (lots of old ropes with 1 new rope) and moved onto the next rope to rappel when my friend Murad who was rappelling down the last rope I was on and the rope broke. Murad fell 300-400 mts vertically down on the rocks/snow. A rescue was put into place but unfortunately the weather was very bad. Early this morning I accompanied the rescue helicopter and retrieved his body from the mountain back to Kathmandu.
I have lost a good climbing buddy and friend.
My prayers go out to Olga and all Murads family."
2013. Everest of Murad Ashurly