Vladimir Kotlyar from Nepal: the group took part in the rescue work
26 April 2015, 18:26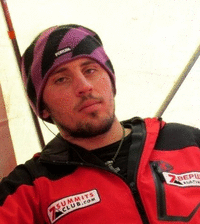 Hi! It is Vladimir Kotlyar, the guide of the 7 Summits Club expedition to Island peak. We are still in the Pheriche. We don't leave this place for the simple reason, that today our group helped to evacuate the wounded, which was got down from the base camp of Mount Everest. It was a lot of them here. So we just found no moral strength to be aside and leave this small village. Our help was very useful. All members of the group, without exception, actively participated in rescue operations...
Then we planned to go further but it was again a new push and we decided not to risk. So we sit here and drink rum just before bedtime, enjoying life. In General, here it is not so bad.
And we send best regards to our Everest expedition! We could not contact direct, we are worry and hope that everything is OK.
So, we sit in the mountains, everything is closed, but somehow we will get from there. All the best! The rum supply allow us to sit here for another week. Not more! Adios!