Ludmila Korobeshko from Alaska: almost all members of group gathered in Anchorage ...
20 June 2015, 09:32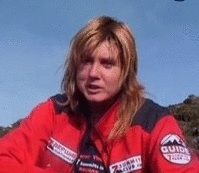 Today, June 19, almost all members of the expedition on Mac-Kinley gathered in Anchorage:
Alexander Logatchev, Konstantin Lavrentyev, Vlad Lachkarev, Igor Smirnov, Igor Cherkashin, Igor Demyanenko, Jamila Murtazin.
And me, Ludmila Korobeshko.
At night we are waiting for arrival of Sigmund Berdychowski and Andrey Kartushin.
And while all members were presented with team t-shorts and jackets, but hid them until better times. We went to the best brewery Anchorage to know each other better.
Yesterday, the team of Sergey Dmitriev, successfully climbed Mount McKinley gave us conditional relay baton.
We washed this baton in the Karaoke club yesterday and today brought to the brewery.
And this morning, the guys saw a live moose and even filmed it on video ...