Ludmila Korobeshko: the first report from the Kahiltna Glacier, the group made safe flight to the base camp
22 June 2015, 08:04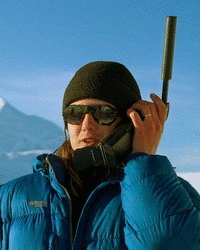 Hallo! This is Ludmila Korobeshko from the Kahiltna glacier. Today, June 21th, as planned, we took off from Talkeetna to the Kahiltna Glacier. We were lucky with the weather. Although the forecast was bad with rain or snow, in fact it was much better.
We flew in general, without any troubles, on the glacier. We set up a camp here. Today we will have a little crevasses exercise, then we rest a bit. And by going to night mode of walking, somewhere at 2 am we plan to go to the next camp.
All people feel fine. Bye!