Survival School in Chamonix: classes are held for any weather
22 June 2015, 01:29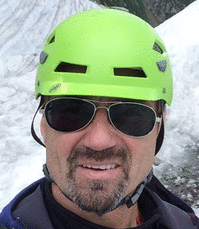 Alex Abramov from Chamonix: Yesterday our team "survival school" in Chamonix moved to Italian side and rose to Helbronner station, 3350m altitude. There we were met by a snowstorm. That is to say, from summer to winter.
By lunchtime, the weather became better and we were able to hold classes on climb-up - traverse- descent on fixed ropes. Also as self-arrest and belay on the snow.
Then put up a tent, we have worked at overnight in tents in the snow.
In the morning the weather has finally deteriorated, however, our team still managed to climb the nearest "unnamed" peak.
We gave it a new name - La Pipka.
All members of the group agreed that, classes were great, it was very interesting and useful.
In the evening I moved to Valery Rozov, Andrei Volkov and Sasha Ruchkin. They warmed and lured me to go with them to one of the peaks south of Chamonix.
Wait for new messages!