Sergey Larin's team arrived in Talkeetna, far - only by plane
8 June 2016, 12:43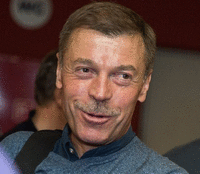 Good morning, Seven Summits Club! It is Sergey Larin. Best regards from Alaska! Our expedition on Denali starts. Today the whole group arrived in Talkeetna. Now you in Moscow have a morning and we go to bed.
Tomorrow we will have a difficult day of training and, if the weather allows, we have to fly in 15.30 to the glacier Kahiltna. Prior to this, in three days planes did not fly to the glacier. Today is the first day. After the break, the aircraft departed and trampled the runway for us.
We hope for the best! Bye! Sergej Larin.