Our group in Papua returned to Timika after attempts to negotiate with the Papuans. Photos and videos from Artem Rostovtsev
25 October 2017, 07:55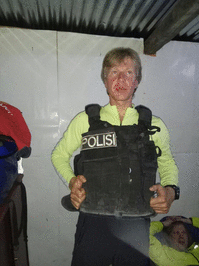 Artem Rostovtsev, a guide of the 7 Summits Club:
Rainy greetings from Papua! We are again in Timika. In short, we flew to Sugapa, and then are unable to overcome obstacles in the form of representatives of the tribe of Moni on the way to the jungle. Some time groups of tourists weren't there, and, perhaps, some time, still will not. We spent the night in a police station and in the morning were evacuated at the first opportunity. We'll go the other routes planned tomorrow to fly to the base camp under a Pyramid Carstenz by helicopter.
Negotiations, massive entry of Papuans in the police station, talks, again talks...