Great Success of the Congress of Everest Climbers
9 November 2012, 21:34
It was not like a Congress, it was a real holiday.Holidayof meetings, celebration of gratitude. More than 60 climbers from 10 countries of the former Soviet Union gathered in the lecture hall of thePolytechnicMuseum. UIAA President Fritz Vrejlandt was a guest of honor of the event. All the climbers on Everest were awarded by Commemorative " Mount Everest Climber", specially made for this day. All members of the Congress and the spectators were unanimous gratitude to the organizers.
Fritz Vrejlandt
Mountaineering Federation of Russia and the 7 Summits Club were the organizers of this unforgettable event.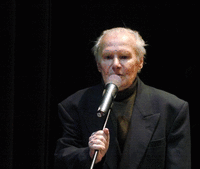 Veteran of mountaineering, Professor Ivan Bogachev spoke about the history of preparation of the first expedition to Everest in theSoviet Union. The decision was made in 1948. Legendary Eugene Abalakov was then the main initiator of the organization of the expedition. After his death, Kirill Kuzmin took the preparation for Everest for himself. In 1959, an expedition was completely ready, but her departure was canceled due to the uprising in Tibet.
Only in 1982, the dream was realized for our climbers. 11 climbers have reached the top of the World by a new, very difficult route. This achievement has had a huge impact on all of us.
Climbers of 1982
In 1990, the new Russian flag was first raised on Everest. President of the Russian mountaineering federation Andrey Volkov was then among climbers.
In 1996, a team fromKrasnoyarskopened a new route (couloir Zakharova) on the northeast side ofMount Everest. In 2004, the national team under the leadership of Viktor Kozlov made a new route on the center of the North Face of Everest.
In the new century, a new life has come to Everest. Alexander Abramov, became a main person inRussiaon Everest. Total Alex participated in 12 expeditions to Everest, 10 of them as a leader. Dozens of climbers thanked him for his help in the realization of their dream.
Alex (on the left) and apart of the 7 Summits Clib Everest summiters
Photos of Danila Kolodin
Summiters from Ukraine (from left): Victor Bobok (3 different routes), Sergey Kovalev,Sergey Bershov, Mstislav Gorbenko, Igor Svergun, Alexey Bokov
Ivan Dusharin (3 times) came direct from Mount Kosciuszko
(project Alpari - 7 Summits for 300 days)
Anatoly Ovchinnikov - 85 years
Kazbek Khamitsaev from North Osetia
Kazbek Valiev
Fritz Vrejlandt and Andrey Volkov
Sergey Bershov
Vladimir Shataev
Maxut Zhumaev and Visily Pevtsov
Alexey Ovchinnikov, Sergey Bershov and Anna Arinina (second Russian woman on Everest)
Victor Kozlov
Alltogher