Summit! Oleg Mezentsev, a member of the second Antarctic group of the 7 Summits Club, climbed to the top of Mount Sidley and completed the Seven Volcanoes program
19 January 2020, 12:05
Message from Oleg Mezentsev from Sidley Volcano:
I was on summit! Everything is fine, we went down to High Camp, today we spend the night here.
The Basler plane is waiting for the group below, so the climbers must catch the Union Glacier before the last scheduled plane leaves for the mainland. It should take place on January 20. On it, Artyom Rostovtsev should fly to Punta Arenas with a third our group of climbers on Vinson.
Photo by Andrew Hughes from James Stone's blog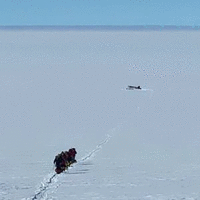 Oleg with Nims in Moscow