The team is  in the final push to the South Pole
31 December 2016, 19:23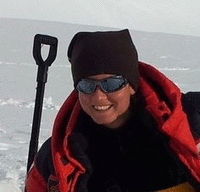 Hello! It is Ludmila Korobeshko from Antarctica, a guide of the expedition "The last two degrees," of the Kazakh Geographic Society. Now we are at 32 kilometers from the South Pole. The last days we walked 20 kilometers on a daily basis, which was not easy. Today we decided to go for one day remaining to the Pole 32 kilometers.
Most likely, the New Year for Moscow, we will meet on the road. What, in general, it is quite original. I think that at the time of the New Year for Moscow, we will be 12 kilometers from the Pole. I hope we will overcome it.
Well, that's all, and Happy New Year! Hurrah!
— Coordinates of the 9th overnight stop: S 89 5170 W 32 1480
— Altitude: 2770.3 meters.
— Time in transit: 8 hours 7 minutes.
— Distance passed: 21.1 êì.
— Average speed: 2.6 km/h
— Weather: wind, cloudy.