All news: 5 February 2011
It is estimated that nearly 1 billion people around the world do not have access to one of life's most basic needs—clean, safe drinking water. As daunting as that sounds, it's a challenge that can be met in the same way ... read more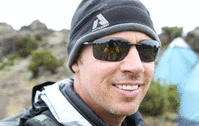 It is estimated that nearly 1 billion people around the world do not have access to one of life's most basic needs—clean, safe drinking water. As daunting as that sounds, it's a challenge that can be met in the same way one would summit the world's most famous high point: one step at a time.
In January 2011, every step Doug Pitt and a team of nearly 50 climbers take up Mt. Kilimanjaro will be a step towards building more than 50 fresh-water wells in Africa through WorldServe International.
The U.S. Goodwill Ambassador for Tanzania, Doug Pitt has a passion for helping people. Husband to Lisa Pitt, and father to three, it was Pitt's work as a photojournalist that initially drew him to the water needs in Africa after seeing a water well drilling operation on his first trip.
"It is the obvious first step to release people from dire poverty. Clean water must come first." - Doug PItt
Through organizations like World Serve International's Mt. Kili Climb and Africa 6000, Pitt hopes to drastically reduce the number of children that lack access to clean water in Tanzania and around the world.
For more information about Doug Pitt and contributing to the Mt. Kili climb please visit www.worldserveintl.org.
*******
Online Extra: Political Notes: Lesbian climbs African peak to raise funds for LGBT youth
An exhausted, but happy, Jody Cole holds an Equality California placard on the summit at Mount Kilimanjaro.
It was a climb she initially resisted but turned into a journey aimed at improving the lives of LGBT youth who are struggling with their sexual orientation.
With each step Jody Cole, an out lesbian and former San Francisco resident who now lives in Ukiah in Mendocino County, took up the slopes of Mount Kilimanjaro in Tanzania, Africa earlier this month another dollar was raised for the statewide LGBT lobbying group Equality California.
Returning home from Kenya last September, where she had spent the month, Cole learned about the American LGBT youth who were committing suicide due to being bullied about their sexual orientation or perceived sexual orientation. Each new report about another teenager taking their life devastated Cole, 48, who has long been an LGBT activist.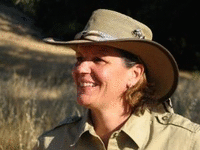 "It makes me sick. I can't believe this has happened," Cole told the Bay Area Reporter in a phone interview from London last week before taking a flight back to California. "It hit me in the gut. I couldn't believe our movement, which experienced AIDS and millions of people dying, it was never supposed to include children. They are not supposed to be killing themselves. Our work should be way ahead of this by now."
Cole decided she would try to raise $1 for every foot she climbed on Kilimanjaro. Having ascended the notoriously dangerous inactive stratovolcano in 1998, she was fully aware of how difficult the journey would be. Turning it into a fundraiser, Cole felt it would provide her the motivation needed not to quit.
"Climbing the mountain was fucking hard and I knew it was going to be hard but I knew there was no way the pain I felt climbing that mountain was anywhere near the pain these kids felt to turn to suicide," said Cole. "On summit day I was in unbelievable pain. But I said to myself you got to keep putting one foot in front of the other because my life is so charmed compared to these kids."
*******
Burns Supper on Kilimanjaro
A group of climbers from the Scottish hospitality industry have successfully completed a challenge to hold the world's highest group Burns Supper on Mount Kilimanjaro.
The group arrived back home yesterday (Tuesday) at Edinburgh airport. The team of 20 people, including two Michelin-star chef Andrew Fairlie and comedian Fred MacAulay, have been raising money for the Hospitality Industry Trust (HIT) Scotland.
They reached the 19,000ft peak of Kilimanjaro on Saturday morning, 10 days ahead of the official birthday of Robert Burns. Due to the weather conditions, the group held their Burns Supper on Friday evening, the night before the final ascent, at the Barafu Camp, 15,500ft up Africa's highest peak.
Scotland's intrepid climbers followed the full Burns Supper tradition with a haggis created specially by Perthshire butcher Simon Howie. The climb was also supported by two Diageo brands - Johnnie Walker, which was used to toast the haggis, and Guinness, a popular drink in Africa.
Billy Bell from Wine Importers Scotland completed the walk in a kilt and transported his bagpipes up the mountain to play in the haggis. Fred MacAulay acted as master of ceremonies, giving the Selkirk Grace and performing the Ode to a Haggis.
Meanwhile, Callum Ross, who works for Hilton Hotels, gave the toast to the lassies while Annabel Meikle from the Scotch Malt Whisky Society gave the response.
Gleneagles' Andrew Fairlie cooked the haggis in the mess tent with help from the head chef from the African walking company. The whole group, including the porters, sat down to enjoy the traditional Scottish meal and celebrate the works of Robert Burns.
Nineteen of the 20 climbers made it to the top and all were present to take part in the Burns Supper. The challenge was held before Burns' official birthday night because the group had to return to work in their own hospitality businesses.
Together, Simon Howie and Diageo, who also supported the climb through Guinness, donated £40,000 to HIT Scotland. The climbers have already brought in another £50,000 and hope to raise more than £150,000 in total, including future fundraising.
Money raised from the climb will go to the Hospitality Industry Trust (HIT) Scotland, the charity working to raise the ambitions and aspirations of Scotland's hospitality industry. The charity achieves this by working with colleges and universities and providing scholarships for talented people working in the industry.
Each year the charity holds the Emerging Talent conference to bringing together more than 400 students, professionals and businesses who are interested in raising standards in Scottish hospitality. This year's event takes place on 9th February in Edinburgh, when HIT Scotland will award over £100,000 worth of scholarships to talented people in the industry.
The record for the highest individual having Burns Supper was set by Chris Dunlop in 2006. The Glasgow climber enjoyed the traditional meal on top of Mount Aconcagua in Argentina at 23,000ft.
David Cochrane, climber and chief executive of HIT Scotland, said: "The trip was unbelievable. We will all remember it forever. The conditions changed from 30 to minus 18 degrees. Some days we were waking up with icicles inside our tents.
"We must have covered between 50 and 60 miles, although it felt like more. We are delighted to reach the top and had a great laugh holding the Burns Supper. There wasn't a scrap of food left between us.
"We are all looking forward to seeing our families and loved ones. Without their support over the last year we would never have made it to the top."
Butcher Simon Howie said: "Congratulations to all the climbers taking part in this tremendous expedition. I'm delighted to learn that they have succeeded in achieving their objective to hold the world's highest group Burns Supper at the summit of Kilimanjaro to raise funds for a very worthwhile cause.
"I'm particularly thrilled that our specially prepared Kilimanjaro haggis proved such a hit with the team and to play a part in treating them to a well-deserved taste of Scotland in one of the most exotic locations."
For more information or to make a donation visit, www.hitscotlandappeal.org
The climbers:
Alan Hill is director of food and beverages at Gleneagles. He holds many internationally recognised awards and is a member of the Académie Culinaire de France
Alyson Cawley is a trustee of HIT Scotland and is commercial director for NEC group catering
Elaine Watson is food and beverage trainer at Gleneagles
Callum Ross is responsible for five Hilton Hotels across central Scotland in his role as area general manager
David Cochrane is chief executive of HIT Scotland. He previously worked for Springboard Scotland and Gleneagles
One of Scotland's best-known restaurateurs, James Thomson owns and runs The Witchery, Rhubarb and the Tower, plus Prestonfield Hotel. He has been involved in a number of charitable initiatives over the years
Mark Forret is Compass Group UK and Ireland's account director to one of UK's largest banks
Susan Mathieson is managing director of Event Consultants Scotland, responsible for HIT Scotland's events throughout the year
Tamara Kobiolke is a senior manager at the Missoni Hotel in Edinburgh
Billy Bell is managing director of Wine Importers and a keen piper
As well as being the director of the Fringe by the Sea, Jane Thomson is also PA to the chairman and managing director of Edinburgh and Glasgow hotel company, The Town House Collection
Annette Lamb is press and marketing manager of Harvey Nichols, Edinburgh
Andrew Fairlie is Scotland's only two Michelin-star chef for his restaurant at Gleneagles. Every year he welcomes some HIT Scotland scholars to learn in his kitchen
Andrew Chappell is executive director of UK operations at ISS Food & Hospitality
Venue manager for the Scotch Malt Whisky Society, Annabel Meikle will be holding her highest tasting to date
Robert Lynn is from Stag Ltd
Valerie Fotheringham is from Ticketyboo Training
Fred MacAulay is a popular comedian and broadcaster
Jackie Yates, from the Highland sporting estate, Loch Assynt Lodge, Sutherland