All news: 2 December 2012
The 7 Summits Club was a sponsor of the main victors of a year's ceremony of Mountaineering Federation of Russia, which took place in the evening of December 1 at the Luzhniki Press Center. The main prize of the national award "Golden ... read more
The 7 Summits Club was a sponsor of the main victors of a year's ceremony of Mountaineering Federation of Russia, which took place in the evening of December 1 at the Luzhniki Press Center.
The main prize of the national award "Golden Axe of Russia 2012" was awarded to the team of Moscow: Sergei Nilov, Dmitry Golovchenko, Alexander Lange - for a new route to the summit of Muztagh Tower in the Karakoram. The coach and the expedition leader - Sergei Kotachkov. The result is appointed by voting of captains of six nominees.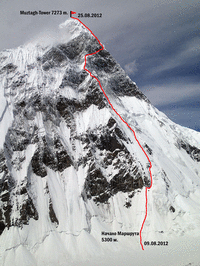 Nicholay Totmyanin presents " Golden Axe of Russia in 2012" ...
The Moscow team has also got the main prize "Crystal Peak" established by portal Risk.Ru, where the winner was appointed by voting on the Internet. Nte same Moscow team won and a third prize - it was the audience award, certain by on-site guests in the evening.
"Steel Angel 2012" for the best female climbing achievement of the year went to Krasnoyarsk. His owners are Paulina Galatsevich and Irina Bakaleynikova - for climbing Zamin Karor Wall in the championship ofRussia.
53-years old grandmother Irina Bakaleynikova is the Queen of Russian climbing
The best "outdoor project of the year" according to the users of the site Risk.Ru is project "Ark of Hope. Dnepr 2012." Announcement of the results caused a round of applause. All welcomed legendary Crimean climber, courageous fighter with his disability Yuri Lishaev, known to all as Fantik.
About 4000 km on kayak along the river of Dnepr and Black sea shore, solo and with paralyzed legs...