All news: 6 February 2016
We are on the top !!! It says Vladimir Kotlyar, the 7 Summits Club. With me here are Sergey, Eugene and Daniil. We are standing now at the top, all together! Weather is wonderful! View stunning. And it is not cold - we are even ... read more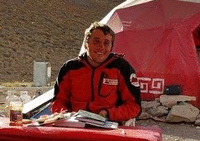 We are on the top !!! It says Vladimir Kotlyar, the 7 Summits Club. With me here are Sergey, Eugene and Daniil. We are standing now at the top, all together! Weather is wonderful! View stunning. And it is not cold - we are even not frozen.
We send greetings to all those who hear us!
Sergei, let's say something!
- Hello everybody, hooray!
So succinctly, curtly. Well, brevity - the sister of talent.
Daniel, there's nothing to say home?
- Hello to all friends, family, friends, that is all! Kisses!
In my opinion, only my emotions going through the roof. Personally, I do ... Such a beautiful day, stunning views!
Well, greetings from the 7 Summits Club and our team, named "Robinson and the three musketeers!"
We climbed up, well now – go down to drink beer. And wine ... And to warm our bones. Adios!