All news: 18 September 2016
Sergey Larin, leader of the expedition. Diary of the expedition on Cho Oyu. 15.09 we arrived in Shigatse (3800), the second largest city in Tibet. We walked around the city and who wanted could buy pillows. While there was not ... read more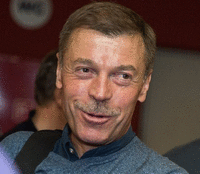 Sergey Larin, leader of the expedition.
Diary of the expedition on Cho Oyu. 15.09 we arrived in Shigatse (3800), the second largest city in Tibet. We walked around the city and who wanted could buy pillows. While there was not a single day without rain.
16.09. In the morning we went to the monastery, the second largest in Tibet. There we worshiped the world's largest Buddha statue. Then we went to Tingri (4300).
17.09. After breakfast we drove to the base camp. In Tingri Chinese began to build housing estates and road towards Cho Oyu. Therefore, after 1.5 hours we were in base camp (4900). On Cho Oyu - it is rather an intermediate camp, than the base, as we plan to spend only two nights here. All the rest of the time camp ABC (5700) will be our base. Everything goes according to plan, the members feel good.