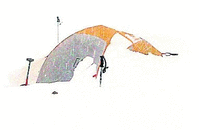 Three Ukrainian mountaineers Vladimir Roshko, Nicholay Shimko and Dmitry Nechiporenko from the city of Sumy have been trapped in a snowdrift on the Mount Blanc since Thursday (11th of January) spending Sunday night, their fifth night outside. Around 13:30 on Monday (17th of January), a PGHM helicopter managed to take off in the direction of the Col de Brenva towards the Mont Blanc to rescue the stranded climbers. Rescuers found the three men at 4300m in good health although somewhat famished!
Bad weather including strong winds has prevented rescue teams to successfully extract the stranded climbers. The three Ukrainian climbers left Wednesday morning on a ski tour up the col de la Brenva, by Thursday the three men found themselves stranded at 4303 meters due to deteriorating weather conditions. Fortunately the team were well equipped and in good health so decided to set up bivouac.
"The weather conditions were extremely difficult again on Sunday, with cloudy weather and strong winds. But these seasoned mountaineers have high morale and improved weather conditions are announced for late Monday morning" should make a rescue possible says the PGHM in Chamonix. Chamonet.com.
On the way back at Budapest