Everest News of February…
5 March 2013, 01:47
1. History. Alpinist Magazine about 1962 adventure Everest expedition....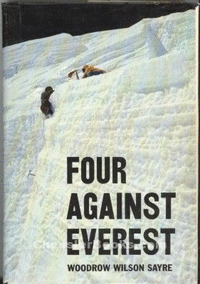 This is the true, almost unbelievable story of a daring attempt by four amateur mountaineers—a college professor, a school teacher, a lawyer and a geology student — to climb the highest peak in the world—Everest.
Without Sherpas or other porters, and with a bare minimum of money, food and equipment, this small band of adventurers, led by Woodrow Wilson Sayre, set out to climb Everest's North Face, which to date has never been conquered.
Not even bottled oxygen, considered by most professional climbers as a necessity, was taken. To make the journey even more hazardous, the expedition had to make a secret dash throughTibetto reach the North Face, risking capture, imprisonment, or even execution by the Chinese Communists, who reputedly patrol the Tibet-Nepal border.
The type of terrain the party crossed is some of the roughest in the world. Sayre recalls that the trek fromKathmandu,Nepalto base camp at the foot of Gyachung Kang was 'like walking up and down ladders fromBostontoAlbany.' Immediately beyond base camp the glacier 'rises 3,000 feet in a tumble of crevasses and ice blocks, and it includes two nearly vertical cliffs of around 1,000 feet.' The route then crosses some 25 miles of untracked glaciers averaging 20,000 feet in altitude. Never before in a Himalayan climb has base camp been at such a distance from the mountain to be climbed. The North Face route begins with the ascent of theNorth Col, which itself is a 1,500-foot-high wall of ice and snow.
The task was grueling and torturous. Carrying every ounce of their supplies for 40 days on their own backs, they had to struggle towards the mountain day after day, gasping for oxygen in the extremely rarified air. At one point a huge ice block overturned and obliterated their intended route. Without medical aid, and three weeks from help of any kind as they were, the slightest accident or misjudgment could have brought immediate disaster. Sayre himself, in three falls, slipped an incredible 1,000 feet down the North Face of Everest—and still walked out.
Each man was driven close to the breaking point. Exhaustion became a constant companion. Food rations ran logs. Before the end of the brutal journey, there was nothing left to eat, and they faced starvation
But there are those treasured, never-to-be-forgotten moments during the expedition when Sayre tells of his feelings of pure exhilaration—'of being close to the top of the world, of taking in at a glimpse thousands of square miles of untouched country, of walking where only a handful of men have walked in the history of the world.'
2001. Last time together....
2. Alan Arnette about new season:
http://www.alanarnette.com/blog/everest-2013-coverage/
Dawes Eddy:
Q: Dawes, you are 70 and have already summited Everest. Why again?
I love adventure and a challenge and my Everest climb in 2009 provided me with both. The 45 minutes I spent on the summit watching the sunrise was a very moving experience, which I would like to repeat. Chronologically, I'll be four years older, but my definition of aging is defined as loss of function. My loss of conditioning and aerobic capacity the past 4 years has been minimal and I want to demonstrate that with the proper lifestyle choices, all things are possible into a person's 70?s and beyond.
David Tait
Q: Your 2013 effort will require extraordinary stamina. Can you share with us your plan?
Yes, my plan does demand exceptional stamina. i have it physically, but do i have it mentally is the question – i will take it slow, realise that this visit is a gift, and try to extract the most from it. I'm not going to set public targets….. I have one in my head [an extreme one], but we shall have to see.
David Liano
He will be attempting in 2013 something no climber has ever done on Everest – climb both sides separately in one season. David is no stranger to Everest with three summits on five different climbs, so he knows what he is getting into.
Q: Now you are looking at a double summit of Everest meaning you hope to summit from Nepal, climbing from the South, then move to Tibet to climb from the North. This has never been done in one season. What is your motivation?
My goals on Everest have evolved mostly due to permit, political and health issues. But my motivation has stayed the same through the years: to live unique and challenging adventures and never to settle for the ordinary.
North-East India Everest expedition. More than 20 climbers
3. Sherpa woman overcomes prejudice for Everest record
http://in.reuters.com/article/2013/02/28/nepal-everest-woman-chhurim-sherpa-idINDEE91R09O20130228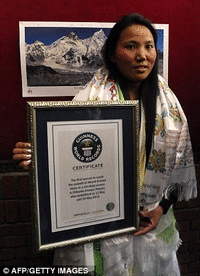 KATHMANDU | Thu Feb 28, 2013 3:50pm IST
(Reuters) - When Chhurim Sherpa was a child she was inspired to dream of scaling Mount Everest by the mountaineers heading to the Himalayan peaks which tower over her village in eastern Nepal.
But economic and social pressures stood in her way, including people saying she did not have the right to set foot on the sacred peak because she was a mere female.
Now the slender 29-year-old is celebrating her world record status as the first woman to climb Everest twice in one week.
"I am lucky to get sponsors and very happy that I have been able to earn a place of pride for our country," she told Reuters as she sat cross-legged in her second-floor Kathmandu apartment, wearing tight jeans and with a bowl of toffees in front of her.
Chhurim, who like many sherpas is called by her first name, climbed Everest, the world's highest peak at 8,850 metres (29,035 feet) on May 12 and 19, 2011. On February 25, Guinness World Records officially recognised her feat as a world first, making her an instant international celebrity.
The sixth of eight children, Chhurim was born in Ghunsa, a tiny village in the shadow of the world's third highest peak, Kangchenjunga, 8,586 m (28,169 ft) tall, in northeast Nepal.
As a child she was fascinated by tales of the historic climbs of Japan's Junko Tabei, who became the first woman to climb Everest in 1975, and Pasang Lhamu Sherpa, who was the first Nepali woman to summit in 1993 but died on the descent.
Actually climbing it herself seemed only a distant dream. While some 4,000 climbers have ascended Everest since it was first scaled by Sir Edmund Hillary and Tenzing Norgay Sherpa nearly 60 years ago, fewer than 400 have been women.
In addition, sherpas consider Mount Everest - known as Sagarmatha in Nepali and Qomolangma, or Holy Mother, in Tibetan - to be a deity.
"It was not easy," she said, recalling when she first said she wanted to climb Everest. "They were disapproving and said it is a god and why should a woman like you try to climb."
There were numerous hurdles to overcome. Maya Sherpa, another sherpa woman who has summited Everest, said expenses kept many women from the peak.
But Chhurim persevered, leaving school as a grade eight student and joining a climbing training course run by the Nepal Mountaineering Association. Sponsorship by a Nepali hiking group paid her fees for this and later climbing ventures.
After climbing two smaller mountains in the Everest region she began setting her sights seriously on Everest in 2010.
"Initially my parents were against the idea. They thought I might die," she said. "But I told them that other women had climbed as well and that I am well trained. Then they agreed."
Like other sherpa climbers, Chhurim performed Hindu and Buddhist religious rites before beginning the ascent, asking forgiveness for setting foot on the mountain.
"I bowed my head to touch the ground three times, offered khada (Buddhist prayer scarves) and planted prayer flags as soon as I reached the top," she said.
Chhurim now has a new goal - she wants to summit the highest mountains on all seven continents.
Attitudes are changing in the majority Hindu nation, and male climbers - including Pemba Tshering, who made headlines when he climbed the peak at 16 in 2001 - spoke with pride about her achievement.
"Nowhere has it been written that women should not climb mountains," he said. (Reporting by Gopal Sharma, editing by Elaine Lies and Paul Casciato)
4. Denis Urubko.
With Alexey Bolotov and Denis Urubko we have gone on the «Forest-area» rocky bastion where they have fairly fulfilled on my chamber. Denis has told, that they now train, take off for Nepal early to get used to local conditions, to plunge into Buddhism atmosphere. We-will arrive, we are waited by organizational affairs, a briefing in the tourism ministry, purchase of products, equipments, then we will go in trekking, - Denis speaks. – This trip represented to me the big loops on gorge Khumbu because I there already four times were and well I know, where it is possible to rise on foot on six, on seven thousand metres, that is our problem - it is good to acclimatize, get used to height, to inhale Nepalese air and to try to rise on the Southern Saddle on height of eight thousand meters on a crosspiece between the Everest and Lhotse It will be last point of our acclimatization, and we will be ready to ascension fulfilment. We will go down in base camp, then for some days we will leave downwards where rhododendrons grow and monks pray, we will have a rest day three - four and after that we will undertake a solving throw - an exit on top. If one of us is ill, descent variants, I think, will be, and here that I like in this ascension, it that there is not present seracs and avalanches which can bury our team. Here you approach to a wall of nine-floor-house, on you to fall there is nothing, but here on this wall it is necessary to climb, and it is interesting.
Alexey Bolotov - the owner of two World's Piolet d'Ors, Denis Urubko - the owner of four Asian Piolet d'Ors and one World's Piolet d'Or. The due has plan in high-speed style to attempt in the spring the direct way from Khumbu glacier to the top of Everest.
- When I have come to mountaineering, - Denis recollects, - for me there was an example an ascension of the Soviet command by the South-West face of the Everest, and it was very strong motivation to search for new ways on tops above eight thousand meters. I wish to try to pass a route adequate to volume which participants of expedition have passed in 82, but to pass a new line in the Alpine style because to the Everest nobody went new routes in the Alpine style
They did not go together, but many times met in different ranges of the world. Bolotov participated in rescue when in 95 year Denis has fall from peak RGO on Central Tian-Shan, both participated in high-speed running to Khan-Tengri, both tried to rescue Inaki Ochoa on Annapurna. Alexey considers Denis as the strongest hi-altitude climber in the world and named him as best partner on such ascension. Besides on a wall there will be no place for a three, so such two-just right.
Jury Rost has written in the book «the Everest 82»: «I never was interested in mountaineering, this sort of activity, these sports and this life frightened off the exclusiveness.»
- Is an ascension on the verge, and the ticket for such ascensions is often bought only in one party is or you have come, or you do not have any chances, - Denis speaks. - but it also bewitches, it just that I always searched in the ascensions together with Sergey Samoilov, with Boris Dedeshko, that is it is the present mountaineering when all becomes only once, irrevocably, when the friend - it more than the brother, and a water - drink the greatest value.
Galina Mulenkova
5. Valentin Bozhukov
"At my age, to climb to such heights is dangerous - he says. - And especially dangerous - go down from such a height. Therefore, because of age, I'm going to use for the descent from Everest a glider. The main thing - not to be mistaken with the weather. "
6. Cinema.
Film based on 1953 Mt Everest climb to begin shooting
Shooting begins tomorrow at Aoraki Mount Cook for the film depicting Sir Edmund Hillary's conquest of Mount Everest.
The 3D film Beyond the Edge tells the story of the monumental 1953 ascent.
Interest is already building following the announcement last week that actors Chad Moffitt and Sonam Sherpa have been cast as Sir Ed and Tensing Norgay.
New Zealand Film Commission chief executive Graeme Mason is wishing everyone working on the film the best as they embark on the ambitious mountain shoot to recapture one of the country's most historic moments.
http://www.newstalkzb.co.nz/auckland/news/nbent/513169675-film-based-on-1953-mt-everest-climb-to-begin-shooting
A Canada-born hypnotherapist with only a few minor acting credits willl play Sir Edmund Hillary in a 3D film recreating his 1953 conquest of Mt Everest.
Wellington-based Chad Moffitt, whose previous roles included playing a flesh-eating zombie, won film-makers over with a simple approach - he sent in a photo of himself holding a $5 note bearing Hillary's face.
His resemblance to the mountaineer has delighted Hillary's son, Peter, and family.
Hillary's granddaughter, Anna Boyer, said photos of the actor in the movie bore a striking likeness to her grandfather even though Moffitt is five years older than when Hillary topped the world.
"The photos look fantastic," she said.
"He's got the perfect craggy face, it's terrific.
"Peter met Moffitt last year and he was really happy with him."
Beyond The Edge producer Matthew Metcalfe said they deliberately did not want a famous face in the role.
"He's pretty much our most well-known icon, and everyone in New Zealand feels like they have a vested interest and connection with Ed.
"So we made a decision early on that we didn't want to use a 'movie star'.
"There were various people floating around, but we made a point of saying the movie is bigger than the star, the story is bigger than the man."
Moffitt, who at 192cm is just 3cm shorter than Hillary, grew up in Nelson and is a keen mountaineer.
He says he is used to people telling him how much he looks like the late knight.
Moffitt has worked for Sir Peter Jackson's Weta Digital - but trained last year in hypnotherapy and works part-time for a Wellington clinic.
Moffitt will be joined on screen by Sonam Sherpa, who will portray Tenzing Norgay. Sherpa is from Nepal but is a New Zealand resident living in the Mt Cook region.
"Tenzing was described by everyone who met him as the most charming, charismatic man, with an amazing smile," director Leanne Pooley said.
"Sonam is exactly the same and while relatively new to acting he is completely relaxed in front of the camera. It just seems incredible I found my Tenzing in New Zealand."
Filming for Beyond The Edge is scheduled to start on March 3 on and around Aoraki/Mt Cook, which will double as the Himalayas.
The film, which will use footage from 1953, is scheduled to be released later this year.
-------------------------------------------------------------------------------------------
7
. Everest book celebrates climbing, publishing firsts "Coffee tablet" book, available now on itunes
Two skilled climbers and talented writers, two distinctly different expeditions and one very big mountain comprise the key ingredients of the innovative "coffee tablet" book, Everest: High Expectations.
Written by Pat Morrow, who summitted Everest as a member of Canada's 1982 expedition two days after teammate Laurie Skreslet became the first Canadian to reach that pinnacle, and Sharon Wood, who became the first North American woman to reach that same point in 1986 with teammate Dwayne Congdon via a difficult new and never repeated route, the book itself represents several firsts.
In a narrative sense, it's the first publication to tell the story of how the preparation, unfolding tragedies and successes of the 1982 expedition spurred the particular planning, execution and triumph of the 1986 expedition.
But its production as an electronic book designed specifically to take advantage of the iPad's unique technological capabilities sets a new standard for illustrated books by combining the tradition of splendid coffee table books with multi-media innovation.
With 142 full-colour photographs illustrating its 140 pages, the book contains chapters by both authors. Each describes their personal histories and apprenticeships that led to their inclusion on their respective teams in an era when the only people climbing Everest were highly skilled climbers invited by their peers.
Subsequent chapters detail their respective climbs, and the book concludes with afterwards by each of them, in which Wood and Morrow share insightful comments on the mostly lamentable state of Everest as overcrowded and disrespected, with Morrow writing, "Adventure tourism has turned one of the world's great mountains into a crowded playground. Admission is costly, and sometimes fatal."
Both Morrow and Wood's writing styles are engaging and captivating as they describe the adventures and experiences that defined and celebrated that particular chapter of each of their life stories.
At the same time, the book's equal triumph is in its multi-media 3D presentation facilitated by the iPad's technology.
A flick of the finger on any photo expands the image to fill the screen. Numerous photos have two, three or as many as 10-full colour and sharply textured images accessed as interactive slide shows, each bearing captions that share additional details about the climbs' events, personalities and state of the mountain.
Not stopping at still photos, the hybrid book also incorporates video and audio footage from both the '82 and '86 expeditions, which literally bring the story to life — including breathless commentary by Skreslet as he films an avalanche thundering down a not-very-distant slope, adding an extra dimension of drama and depth to the story.
You can feel the cold in Skreslet's voice.
--
The book also includes links to external resources including a one-hour documentary, as well as electronic footnotes providing valuable information about key people and story elements that can be accessed later without interrupting the text.
Beyond the high-tech bells and whistles though, Everest: High Expectations masterfully shares a story from a perspective that's never before been recorded — how the circumstances of the 1982 expedition, during which a large team intent on making a uniquely Canadian stamp on Everest by climbing a new, technically challenging route, fractured after the tragic deaths of three Sherpas and a cameraman. The team regrouped and ultimately succeeded in its goal of placing the first Canadian on the summit — which inspired and guided the planning and execution of the self-sufficient, smaller Everest Light 1986 expedition.
To produce the publication to coincide with the 30th anniversary of the '82 climb, Morrow teamed up with publisher Frank Edwards, with whom he first worked in 1975 when Edwards was editor of Canadian Geographic magazine.
For her part, Wood said she valued the opportunity to write about the '86 expedition from her perspective as one member of the team and to express how the '82 expedition influenced and inspired her.
"I really enjoyed writing about how I was very moved to witness my peers facing such hardship and rising to it, and also by how different individuals rose to those challenges in very different ways," Wood said. "The '82 trip was very much an inspiration for me, and I wanted a chance to rise to a challenge the way they did."
With both the '82 and '86 climbs being ground-breaking Canadian mountaineering accomplishments, it's only fitting that the book that links their connection should be too.
More than just a book, Everest: High Expectations is a well-written, introspective and thoughtful story artfully told in a 3D multi-media experience. As such, Morrow said he feels confident that while many fans of mountain literature may not own or use iPads, with 600 million current iPad users projected to rise to 100 million, he expected the book's captivating stories of adventure combined with its high production values have the potential to reach a large audience, including those who might discover mountaineering as literary genre. At the same time, he added, the book could potentially be made suitable for other electronic readers.
"Mountaineering is a natural fit for electronic books, so many expeditions have video and audio components," Morrow said. "Keep in mind; this is only version two of this software. We're just at the dawn of iBook publishing. The iPad itself is underutilized. Our book stands a chance of opening eyes to what's possible."
Everest: High Expectations is downloadable on the iPad by searching for the title, authors' names or at the iTunes book store for $9.99.
8. Tom Whittaker visited Kyrgyzstan