Alex Abramov about earthquake, our groups are OK
25 April 2015, 13:29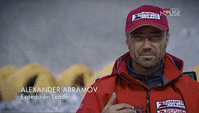 Hello! This is Alex Abramov, from Tibet, from an the 7 Summits Club expedition on Everest. Today, in Nepal has been a very strong earthquake. The echoes of this disaster were on our side, Tibetan, where is our expedition. All is good here, just several avalanches have come down and somewhere there were rockfalls...
... But otherwise, all is well, we are alive and healthy, sending greetings to family and friends. In Kathmandu all situation is worse, theu said, many victims, destroyed buildings. But also, we contacted with our group which are on the Nepalese side - Island's Peak, the second group in Tibet. All things there are good, so don't worry. They are safe.
We have not very good weather, snow is coming. Goodbye!