News from our team in the Kuril Islands
9 August 2015, 21:59
In early August, a large group of travelers from our club went to investigate the Kuril Islands under the leadership of a guide of the 7 Summits Club, an expert in the region - Olga Rumyantseva.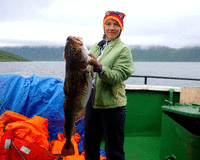 Olga Rumyantseva: We walked almost the entire Kurile chain. We landed on the island Paramushiro, Onekotan, Matua, Simushir, Ushishir, Urup and Iturup. We have to visit only Shikotan and Kunashir.
During this time we climbed the volcanoes on Krenitsina on Onekotane, Zavaritskii on Simushir, inspected the remains of the Japanese military facilities on Matua, bathed in the hot springs at Ushishir, Urup and Iturup. We looked at an abandoned submarine base on Simushir, observed whales, killer whales, sea lion rookeries, sea lions. And had a lot of fishing.