Vladimir Kotlyar team celebrates the end of the season and climb. Before they reached the top of, but happy
10 September 2015, 20:38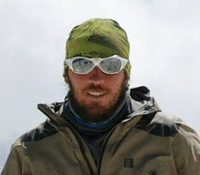 Hello! It says Vladimir Kotlyar, a guide of the Seven Summits Club. I close the season. This time, I think, it is true. There was a final group ... for this season. The team was very good, a big one - fifteen people ... We went down from the mountain today. Warmed ... A little bit, we have not reached the summit of Elbrus. The weather did not let us. But we fought to the last ... Guys - handsome ... well done. Now we sit in Terskol and celebrate our successes and our familiarity with the harsh mountain Elbrus. It is sometimes so severe.
All are alive and well and everyone is happy - I can see it on the faces. … People! To say hello! Sounds: HELLO !!!
So: Adios! Till the new season!