News from Lyudmila Korobeshko, group South Pole
30 December 2016, 19:10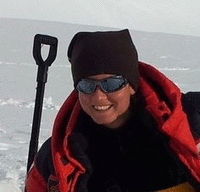 Good afternoon! It is Lyudmila Korobeshko from Antarctica. So, we continue to move to the South Pole, it remains 52 km. And we hope to go through it in two days. Although it is unclear whether this is real or not. Because the distance is certainly big. We want today to pass ... 20 km. And the last day we have to go "up to the stop."
That is, we are fine. Weather ... not very good. All the time clouds, accordingly, it is difficult to navigate. When there is sun, it is much easier to follow the shade.
Well, all a Happy New Year! We hope in the night from 31 th to 1 st to be at the South Pole. Bye!
The goal of the Pole of Independence expedition team is to achieve the maximum, i.e. to make an effort and reach the Amundsen-Scott station till the New Year! You can trace the progress of the members at following link: http://kazgeo.kz/projects/sp2016/marshrut
Due to this reason Magzhan, Ilyas, Yury, and Daulet take their rest fast, immediately pack the camp, and pass the maximum possible distance, eat fast, and go to sleep. There is no space for sentiments, as there, behind the horizon, the desired georgaphical Southern Pole is awaiting for them, where the flag of our country Kazakhstan will be installed, as it was 5 years ago!
— Coordinates of the 9th overnight stop: S 89 5170 W 32 1480
— Altitude: 2770.3 meters.
— Time in transit: 8 hours 7 minutes.
— Distance passed: 21.1 км.
— Average speed: 2.6 km/h
— Weather: wind, cloudy.