SUMMIT! The team of Artem Rostovtsev climbed Mount Kilimanjaro
24 February 2016, 10:29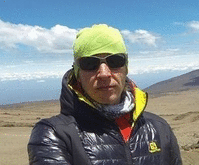 Hi, Seven Summits! It is Artem Rostovtsev from Kilimanjaro slopes. We have again a strong north wind from the equator today. We went out at night on the ascent to the "roof of Africa", and at 7-40 a.m. we were at the top. Unfortunately, one participant was forced to withdraw yesterday. We sent him down (he is already at the hotel in Moshi). Therefore, on top there were only three people and I form the team of the Seven Summits Club….
Sergey Dolya with his team walked parallel with Artem's one
Here they are at the same table!
Previous days photos