Group of 7 Summits Club in Talkeetna. Report and photos by Ludmila Korobeshko
21 June 2015, 09:55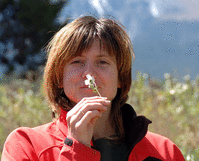 Ludmila Korobeshko from Talkeetna, Alaska.
Today, June 20th we are finally altogether, joined by Sigmund Berdychowsky and Andrey Kartushin.
In the morning we were completed our shopping and arrived in Talkeetna to the dinner time. On the way we passed large areas of burnt and even steaming forest. A few days ago there were blazing fires.
In Talkeetna we acquainted with the main sights - Main Street – it is 200 meters long, waterfront Susitna, airfields and TAT office, from where we plan to depart tomorrow Kahiltna Glacier.
Tomorrow we will have a very busy day: at 7 am we go to the office "Alpine Asñents International" (company partner), packing, check the equipment, go to the Rangers for registration and then to the airport for departure. I keep my fingers crossed that the weather allowed to implement his plan.
All participants are cheerful and full of energy to perform feats :)