Natalia Kartashova from Crimea: Today was a debut, the first time we were training on a new rocks Ц Belichiy (squirrel)
2 October 2016, 23:58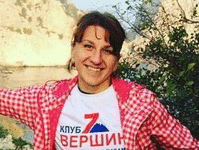 Hello from the Crimea! It is Kartashov Natalia, a guide of the Mountain School. Today, we have completed our program with Ginkulovs family. They left, all very satisfied. Yesterday we went to a small cave on the Koshka mountain, and enjoyed it very much.
We are working today on the Belichiy rocks. It is such a news. Today, we can say, a new rock sector was opened, which is called Belichiy (Squirrel) rocks. Routes there are named by the names of the many peaks of the world: the Aconcagua, McKinley, Mount Everest, Elbrus, and so on. Routes are created by us with the help of the 7 Summits Club.
Today Liana Morozov came in, it was the first day, and on the rocks squirrel ... Tomorrow we will continue on the Koshka mountain. We hope that the weather will be just as warm and good as it is today...